N K Kothari wealth consultants was established in year 2007 as an independent consultancy. The purpose was to fill the void in the market for research based consultancy service for wealth creation. As the organization grew it carved out a niche for itself in high value analytical work. Gradually, it has transformed into a boutique wealth consultancy outfit offering a host of services some of which were hitherto unheard in financial services domain.
At NK Kothari we believe that high-quality, professional investment planning can only be achieved through expert, transparent and unbiased services. In our endeavor to provide 'best in class' investment solutions, we listen to our clients carefully, aiming to understand their immediate and long-term financial goals. We then use our extensive market knowledge and expertise to provide a financial advice, that our clients can trust. We are, therefore, able to offer a holistic approach to in managing and protecting our client's wealth and financial future. This has been endorsed by our growing client list which stood at over 1300 clients as on December 2018.
We take a lot of pride in the wealth consultancy we offer. Rather than simply giving you options from a range of different financial service providers, we prepare a 'route map', showing where you are today and what actions you need to take to achieve your financial aspirations. At N K Kothari, we believe in bringing long-term happiness to the lives of people by efficiently and productively planning investments for our clients, to suit their goals.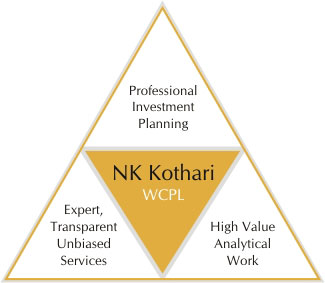 Mission Statement
Our mission is to make a positive difference in the lives of our clients and their families, which can help them achieve their financial goals. We are committed to provide high-quality services with utmost dedication, integrity and honesty in all our dealings.